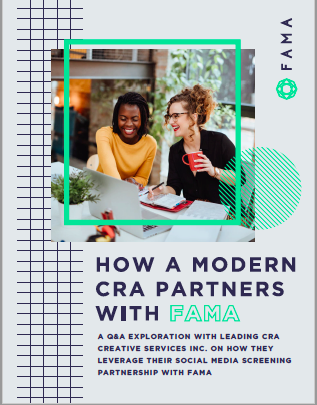 eBook
How A Modern CRA Partners With Fama Technologies
What's Inside?
Hear from Creative Service Inc's Associate General Counsel, Kellie O'Shea, as she explains how they find value in the insights that Fama Technologies provides through public web and social screening.
Additionally, Kellie talks about how Fama augments traditional screening outcomes along with omni-channel approaches that are privacy and candidate-centric.
Executive Advisor, Jerry Sklar, also discusses how their teams work with Fama Technologies to bring innovative solutions to clients and their unique search needs.
Among some of the other topics discussed:
The criteria that Creative Services uses for selecting vendors.
How public and social media screening extend brand positioning.